Lawyer Joelle Rich and actor Johnny Depp. | Source: Getty Images
Joelle Rich, the girlfriend of Johnny Depp, has caused a stir on the internet due to her blossoming romance with the actor. The news comes after the "Charlie and the Chocolate Factory" actor was rumored to have dated another lawyer several months ago.
"Pirates of the Caribbean" actor Johnny Depp recently made headlines for allegedly dating his former lawyer, Joelle Rich. The alleged relationship between the two began months after the actor won a defamation lawsuit against his ex-wife, actress Amber Heard.
Rich appears to have been associated with one of Johnny Depp's high-profile cases in recent years. Rich was reportedly part of the legal team that represented the "Rango" star in his libel case against British tabloid The Sun.
Who is Joelle Rich?
Rich is a prominent attorney. According to the Schillings website, Rich has more than a decade of experience practicing media law and is a seasoned litigator.
She is an expert in protecting clients' good names from defamatory attacks in print, online and other social media platforms. She has won many court battles related to privacy, copyright and defamation issues. Rich's LinkedIn profile said:
"I specialize in helping individuals and businesses protect their privacy and reputations, primarily in times of crisis. I regularly handle media attention during particularly sensitive and unpredictable periods."
According to the beautiful attorney's LinkedIn bio, most of her clients are high-profile individuals, family offices, private companies, and business owners. She said that one of her main goals in her job is to safeguard the interests of her clients and allow them to celebrate their success in peace.
Rich's educational background is quite broad. She attended North London Collegiate School and studied law at the University of Birmingham from 2003 to 2006. Subsequently, she studied a legal practice course at BBP Law School from 2006 to 2007.
During his one-year course, he concentrated his elective studies on intellectual property, media entertainment, and commercial and private acquisitions. After that, she landed a position with DLA Piper as a trainee attorney for three years, from 2008 to 2011.
Rich has received various accolades and recognitions for his impressive achievements. During the Citywealth Future Leaders event in 2021, she earned a silver award for "Future Leaders Initiative of the Year."
She was also one of the seasoned professionals selected for the title of "Future Leader in Private Client Services" at Spear's 2021 Wealth Management Awards.
In addition to his many accomplishments, Rich has two sons. Rich, according to Us Weekly, was still married when she met Depp. According to reports of her, she is divorcing her husband, whose name is unknown at the time of writing this article.
Despite their relationship status, Rich, a source, said that she and the "Edward Scissorhands" actor are starting a new romance and that the couple's rumored chemistry was "off the charts." The source added:
"It's serious between them. They are the real deal."
Rich and the acclaimed actor secretly met at various hotels. The source mentioned that the rumored couple's meetings had no "professional obligations", only personal matters.
While Rich did not represent Depp in the libel court hearing against Heard in Virginia, he did attend several court proceedings to support him.
Depp was married twice. He was married to "Aquaman" actress Amber Heard from 2015 to 2017 and Lori Ann Allison from 1983 to 1985. He had no children by his ex-wives.
However, the Oscar-nominated actor shares daughter Lily-Rose and son Jack with ex-partner Vanessa Paradis, a French singer, model and actress. Between the former couple's two adult children, Lily-Rose followed in her footsteps into the entertainment industry.
How did Johnny Depp and Joelle Rich meet?
Rich and Depp met during his libel suit against the British tabloid The Sun. She represented the actor in court after he filed a case against the publication over his 2018 story calling him a "wife beater" during his marriage to Heard.
Unfortunately, Depp ultimately lost the case in November 2020. In a written statement from the UK Ministry of Justice, the presiding judge, Justice Nicol, ruled that The Sun article was "substantially true". Heard's testimony during the trial reinforced The Sun's claims.
Depp's appeal to reverse the decision was denied in March 2021. As well as working on Depp's case against The Sun, Rich worked on Meghan Markle's case against another publication in 2020.
The attorney described the experience as "a definite professional milestone" for her. While Rich did not represent Depp in the libel court hearing against Heard in Virginia, she did attend several court proceedings to support him.
In the courtroom on May 16, many found Rich giving Vasquez a big hug after a court proceeding and four days later, on May 19, Rich walked out of court with Depp and the rest of his team.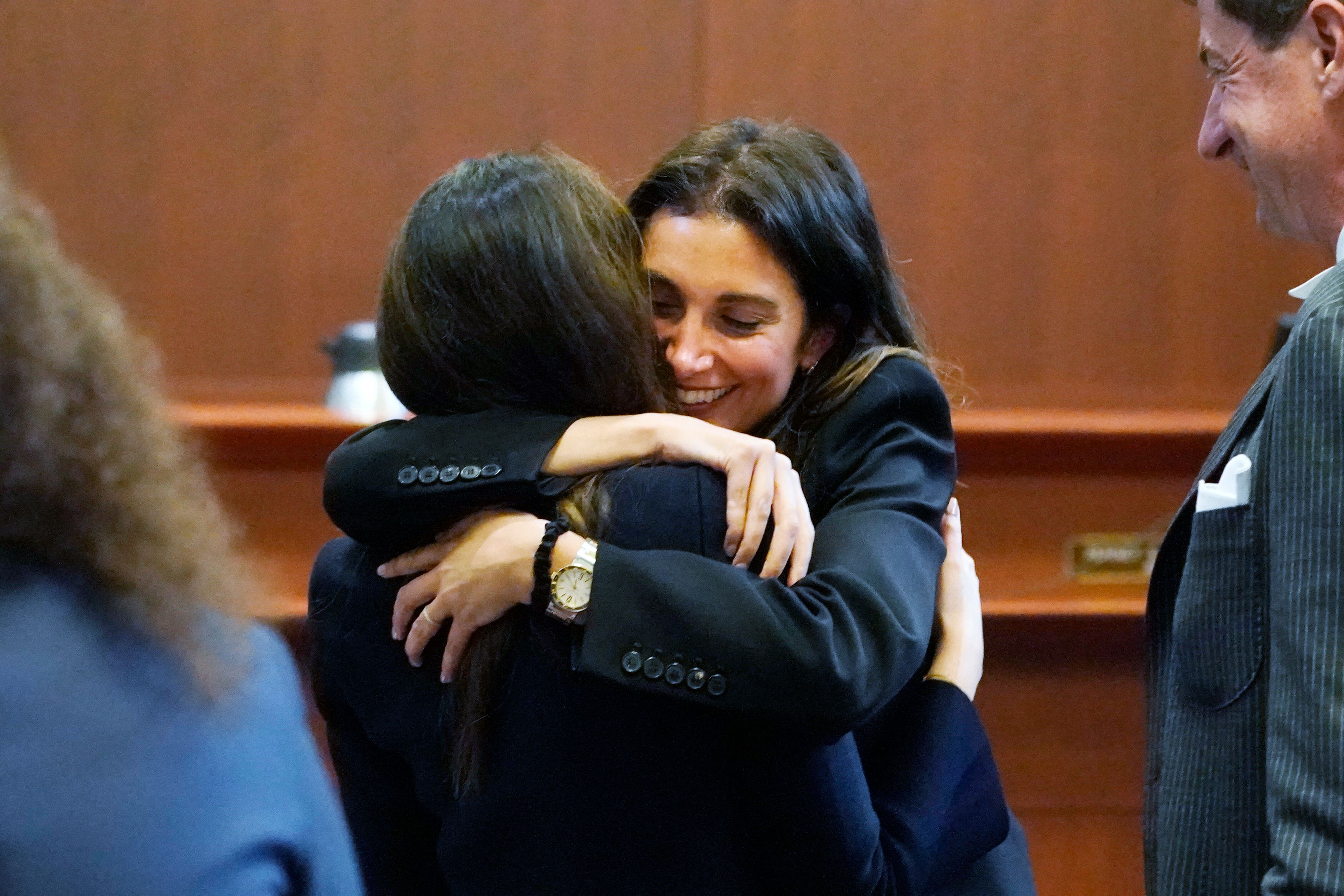 Attorney Joelle Rich hugs Attorney Camille Vasquez at the Fairfax County Circuit Courthouse on May 16, 2022 in Fairfax, Virginia. | Source: Getty Images
Did Johnny Depp date his other lawyer, Camille Vasquez?
During Depp's six-week libel trial in Virginia, Vasquez won wide admiration for his expert cross-examination of Heard and other witnesses on the opposing side.
At the same time, rumors about her romantic relationship with the actor circulated on the Internet like wildfire. However, Vásquez was quick to dispel the rumors, going so far as to call them sexist.
She said she was in a happy relationship and stressed that being in romantic relationships with clients was unethical. She also called the rumor sexist, adding that the claims are based on being a woman who was "just doing her job."
Vasquez also expressed disappointment at the media's portrayal of his interactions with Johnny Depp as inappropriate or unprofessional. She said that the movie star was her friend, whom she had represented for more than four years.