Hollywood star Kate Winslet has decided to age gracefully despite being a victim of body shaming. She has maintained her stance of allowing her aging process to be as natural as possible.
English actress Kate Winslet has been married to her longtime love, Edward Abel Smith, for a decade. The couple were first linked in 2011 and secretly married a year later, in December 2012, in upstate New York.
The couple, who have a son named Bear, have been together ever since and have kept a low profile over the years. However, Winslet has spoken fondly of her husband in the media.
Actress Kate Winslet and her husband Edward Abel Smith attend the "2014 Diane Longines Prix" at Chantilly Racecourse on June 15, 2014 in Chantilly, France ┃Source: Getty Images
The "Titanic" star once revealed to The New York Times in 2021 that Smith initially had no plans to marry a famous woman as she divulged exciting facts about him:
"He didn't particularly plan on meeting and marrying a woman who is in the public eye and therefore has been so judged. He is vegan, does yoga, breathes and swims in cold water."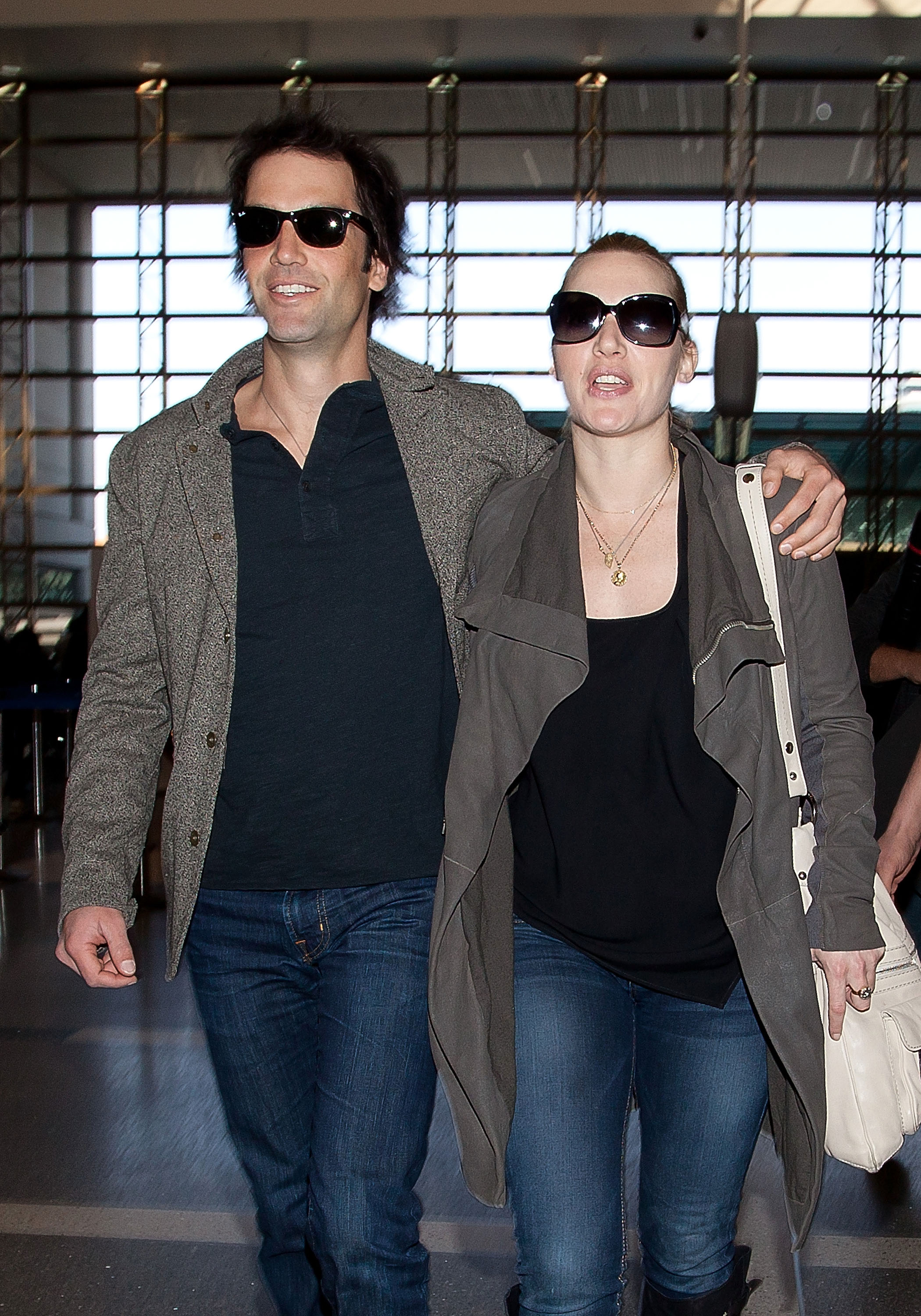 Kate Winslet and Edward Abel Smith are seen at Los Angeles International Airport on January 16, 2012 in Los Angeles, California ┃Source: Getty Images
Winslet even credited the love of her life for some of her recent professional success. She shared that Smith has been "incredibly supportive" in her acting career:
"My creative life over the last few years has been very, very colorful for me. And I've really enjoyed being able to embrace that. I have a wonderful man in my life who is incredibly supportive of making it possible for me to have those experiences. It's been really a fun time."
Smith accompanied his wife to the 2021 Emmy Awards, where she took home the trophy for Outstanding Actress in a Limited Series or Movie.
According to People, the star said that when she attended the ceremony ten years earlier, she knew she would spend her life with her husband when she met him. Winslet said that she was madly in love with her future husband at the time and she couldn't concentrate on the event:
"So having him here is really very special."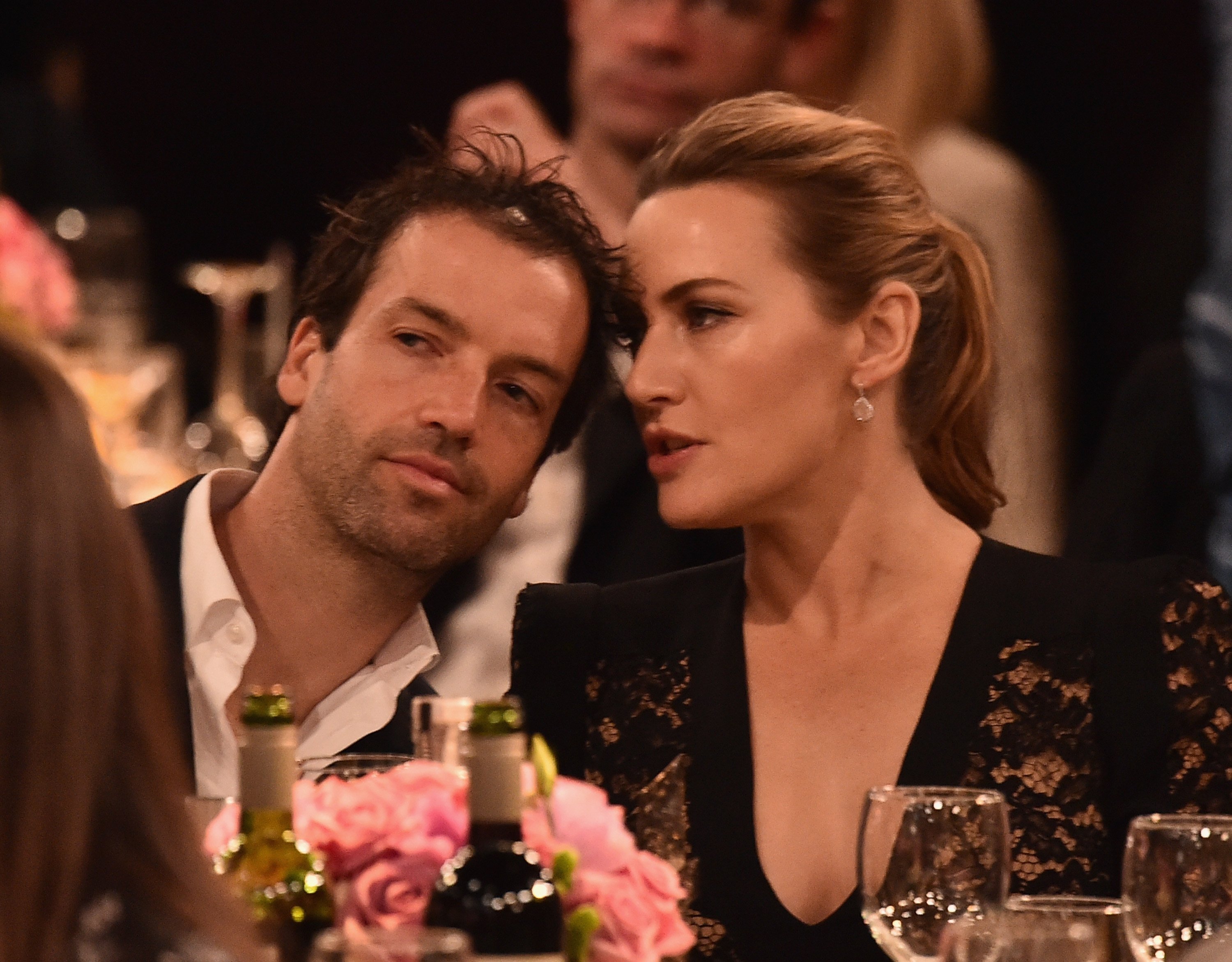 Edward Abel Smith and Kate Winslet attend the 21st Annual Hollywood Film Awards at The Beverly Hilton Hotel on November 5, 2017 in Beverly Hills, California ┃Source: Getty Images
Smith is now a stay-at-home dad, with his spouse revealing that he happily cares for her and their son, who is now 8 years old. "He's an extraordinary partner," Winslet said of her husband, who helps her execute lines for scripted projects, even though she has dyslexia.
The star of "The Reader" expressed that she was very lucky to have a companion who, despite her condition, went out of her way to help her whenever he could. "He is absolutely everything to me. And to all of us," she said.
Despite her success, Winslet struggled with her body image.
Although she has had a thriving acting career, it has not been easy for Winslet. In February 2021, she candidly talked about being body-shamed as a young star in her twenties, which greatly affected her confidence:
"When I was 20, people talked a lot about my weight. After starring in 'The Titanic,' Joan Rivers once said, 'If only I lost pounds, [Leonardo DiCaprio] I could have fit on the raft.
Winslet was 21 years old and found the tabloid coverage of her weight "shocking, critical and downright vicious".
The Oscar winner shared that she was still trying to figure out who she was at the time and that the press commented on her weight and even estimated how much she weighed.
They published the alleged diet that he was following and focused on his appearance. "He was judgmental and horrible and very upsetting to read," Winslet said.
Unlike other famous women, Winslet has sung a different tune regarding staying young and relevant in show business. Now that she is in her mid-forties, her mother of three promised to keep her appearance as she is. According to The Telegraph, the "Divergent" star stated that she would never give in to pressure from Hollywood to have cosmetic surgery:
"It goes against my morals, the way my parents raised me and what I consider to be natural beauty. I will never give up."
Winslet said that, due to the nature of her profession, she doesn't want to "freeze the expression on my face." Still, at the time, she believed that women in show business had to look thin to attract the public and she feared that if the film failed, she would be blamed and used as a scapegoat.
However, per Goalcast, her former co-star Leonardo DiCaprio gave her different advice and completely changed her perspective on beauty. The actor told him not to think too much about the shape of his body and that he love himself as he is:
"You know, it's very important that you have the form that you have."
Winslet noted that it was an unforeseen conversation that she and DiCaprio had on set. He told her that many women in Hollywood firmly believed that they had to be thin to be successful and beautiful.
Following that advice, Winslet stayed true to herself and flaunted her curves and physique with confidence, and the film became a huge success despite the criticism surrounding her appearance.
The award-winning film stopped caring what people thought of her weight once she realized the importance of being a role model for other young women.
Winslet was nominated for an Oscar at the age of 21 and told herself she would continue to keep her head up and be comfortable with herself after being asked to comment on her appearance.
In June 2021, he told The Telegraph that his priority ever since has been to make sure the characters he plays on the big screen seem "relatable" to audiences.
During the interview, Winslet discussed playing Detective Mare Sheehan in the seven-part miniseries "Mare of Easttown," a fictional town in Pennsylvania. She said that Sheehan couldn't care less about her appearance and added that she should avoid putting on too much makeup for the character.
Despite promoting natural beauty, Winslet still cares about her skin and hair. She revealed to the outlet that keeping skin "reinforced and hydrated" is essential.
Winslet is a big fan of anti-aging treatments, but she doesn't use multiple products at the same time. Instead, she washes her face with cold water every morning to remove puffiness and keep her pores intact.
She revealed that she dyed her hair during lockdown, but it didn't go well. When asked if she had gray hair and wanted it covered, the "Hamlet" star shared that she doesn't have gray hair yet, but she does suffer from browns (when her hair darkens at the roots).