Micah and Michael Essien | Michael and Micah Essien | Source: facebook.com/Mike Essien | facebook.com/edelduokm
In a heartbreaking turn of events, one family's happy, perfect world is turned upside down when an unimaginable tragedy wreaks havoc on their lives. Take a look at her harrowing story of heartbreaking grief, trauma, and loss.
Mabel and Michael Essien were a happily married couple living in Houston, Texas. They were the parents of three adorable children and basked in parental happiness. The Essiens looked forward to each new day with hopeful hearts and were surrounded by a supportive circle of family and friends.
Michael's loved ones described him as a gentleman who knew how to protect and provide for his family. He was known for going to great lengths to make the people around him happy. He was a helpful member of his church community and never hesitated to lend a hand.
The Essiens
The man from Houston was greatly loved and valued by all who knew him. The Essien family said that he was a loving husband, a best friend and a devoted father to his three angels. Michael's second son, Micah Essien, was known for his kindness and cheerfulness.
Officers were shocked when they found a young child in the back seat.
Micah's cousin, Etimbuk Isaiah, said he was a happy-go-lucky boy who was always cheerful and loved making everyone happy. The little boy also liked to help out in the kitchen and was a source of pure delight in the Essien household.
a man with a good heart
Michael's sister and Micah's aunt, Jessie Okon, described their brother as a kind-hearted man who never argued with anyone and wouldn't think twice about helping someone. She added:
"Michael would give every penny he has to other people."
The Essien family was happy in their little world and looked forward to celebrating many wonderful moments together. little did they know that an unlikely incident would change everything.
When tragedy struck
On Tuesday, September 20, 2022, Houston Police responded to a shooting in the area of ​​El Camino del Rey Street and Chimney Rock Road around 1:46 p.m. When officers arrived at the scene, they found a man, who they said who had been shot to death.
Investigators believed the victim had encountered another man at the scene and an argument ensued between the two. Houston Police Deputy Chief Larry Satterwhite said the man later killed the victim, stole his truck and fled the scene.
In the evening around 6:36 p.m., officers said they responded a mother's frantic 911 call about the disappearance of her husband and two-year-old son. Based on information provided by the woman, Satterwhite said the victim was identified as 38-year-old Michael.
taken too soon
Within a half hour, Houston police were able to track down a black SUV, which they said was dumped by the shooter on Elm Street near Renwick Drive. Officers were shocked when they found a young child in the back seat. Satterwhite revealed:
"We never heard of the child until [the mother] I call."
Sadly, the little boy, who was identified as two-year-old Micah, passed away in the car. Satterwhite believed that the toddler died in the vehicle due to heat exhaustion. Neighbors said they likely saw the abandoned car parked on the street. but I didn't know there was a child inside.
Broken beyond repair
On the morning of Wednesday, September 21, officers arrested a suspect near the scene of the shooting, whom they identified as 38-year-old Bolanle Fadairo. According to Houston police, he was arrested on charges of murder and tampering with evidence.
The devastating loss of the father-son duo shattered their family. Michael's wife and Micah's mother, Mabel, described her husband as a selfless man who always puts others first. Fadairo reportedly told police that Michael owed him money, but Mabel said it was her husband who always helped him.
A grieving wife and mother
Mabel shared that her husband recognized Fadairo from high school and gave him a second chance. She said that Michael was a security guard, getting Fadairo a security job and often helping him with financial matters.
According to the Essien family, Michael was wearing his security guard uniform when the unfortunate incident occurred. Mabel, heartbroken, said that she was still in denial and that she couldn't believe that her loving husband and her beloved son no longer existed. She added:
"I want the world to see other people in Michael's eyes, that's the only way my husband's legacy can move forward."
A sister and an aunt with a broken heart
Okon, with teary eyes, could not stop crying for his caring brother and little nephew. she expressed, "All I want is my brother and my 2-year-old who just learned to say 'Aunt Jessie.'"
Okon shared that his brother was the father of a six-year-old boy, a two-year-old boy, and a three-week-old boy. She said that she couldn't understand why someone would want to kill her brother and nephew. Okon stated:
"I want my nephew back. He's only 2 years old. He doesn't know how to hurt a fly. My brother has always been a peaceful man. I need my brother back."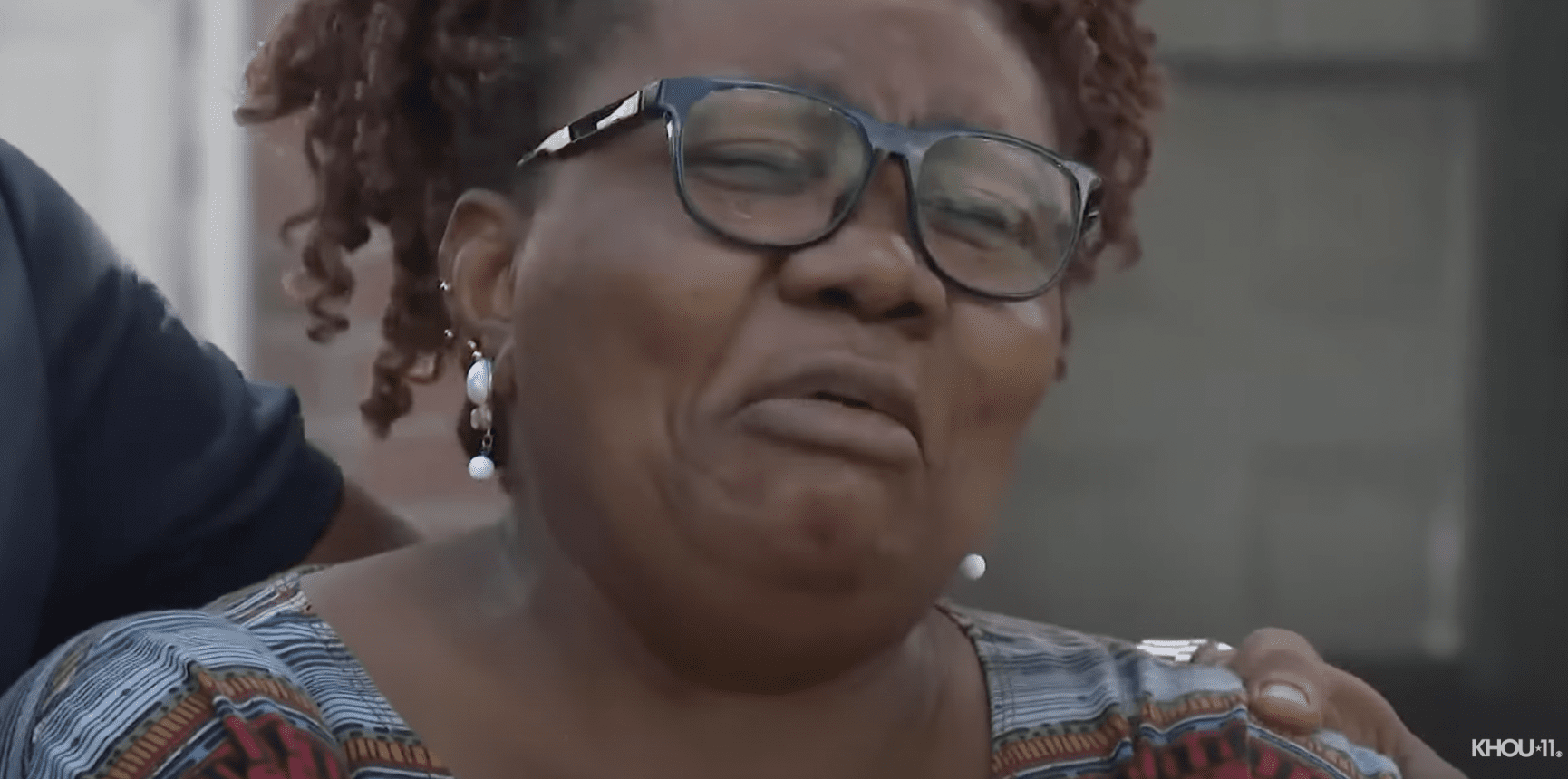 Jessie Okon has an emotional breakdown talking about her brother and nephew. | Source: YouTube.com/KHOU 11
Supporting the Family
Michael has left behind a grieving wife and two children. The sweet child of him, Micah died shortly after becoming a big brother and was deprived of seeing his little sister grow up.
The Essien family has created a crowdfunding page to cover funeral expenses and help Mabel raise her children on her own. As of September 23, more than $1,600 have been raised through the fundraising account, and more donations continue to pour in. The family wrote:
"Michael was the sole provider for his family. His wife must bury her husband and child and still provide love and financial care for their remaining children."
We send our deepest condolences to Mabel and the Essien family in your time of heartbreaking pain and sadness. May God grant eternal peace to Michael and Micah. We are sure that the father-son duo will watch over their loved ones from heaven.