Chrissy Teigen and John Legend. | Source: Instagram/chrissyteigen
The internet is still full of rumors about John Legend's divorce. Although he and his wife, Chrissy Teigen, have a wonderful marriage, fans of the musicians urged him to divorce his wife after an unforgettable scandal rocked the online world.
Grammy winner John Legend and his wife, TV personality and model Chrissy Teigen, have been married since 2013. Following the heartbreaking loss of their pregnancy in October 2020, the couple recently announced that they are expecting another child.
Tiegen and Legend have faced many adversities as a couple, but they still enjoy moments of happiness. However, there have been rumors about their breakup throughout their relationship.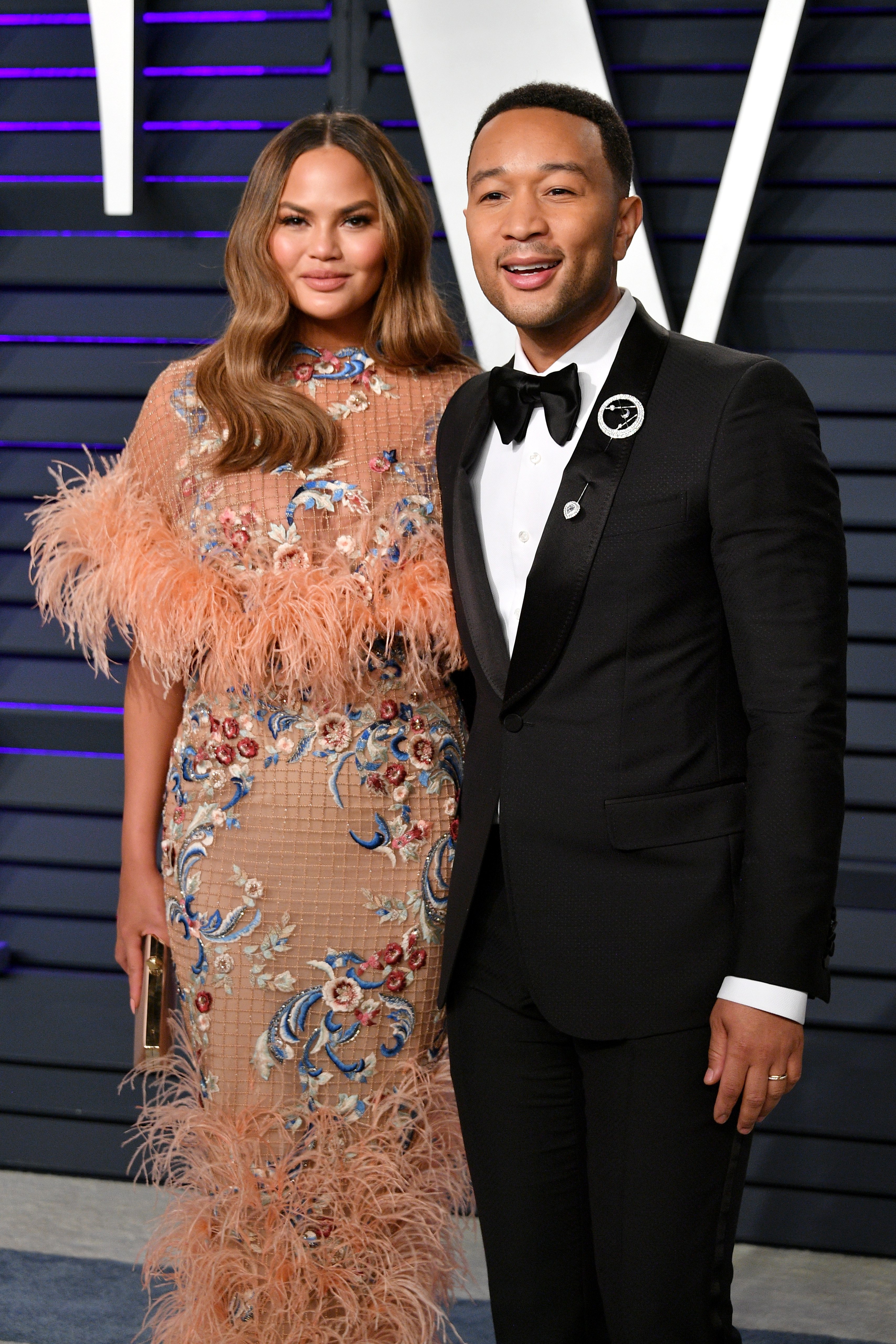 Chrissy Teigen and John Legend at the 2019 Vanity Fair Oscar Party on February 24, 2019 in Beverly Hills, California. | Source: Getty Images
John Legend broke up with Chrissy Teigen for a minute
In 2020, Legend participated in an Instagram live session that featured Tiegen. The American model casually revealed that she and her husband broke up in the past: She said:
"Some of you know John broke up with me for a minute. Many years ago. And then I still had to go to his shows because I was still stuck there and couldn't go home. We were on tour."
Teigen said Legend sang his hit song "Everybody Knows" while watching him from the front row. He said that he cried because he liked the song and that he had just broken up with her.
The legend told his wife that he did not remember them being separated. He also told Teigen that their relationship worked out since they are now married.
Legend has it that enjoying each other's company is the foundation of their marriage.
He assured her that they would never part again. However, on September 3, 2017, in an interview with The Guardian, Legend shared that he and his wife almost broke up.
When Legend said he would be "happier single," Teigen replied with a "no." The legend claimed that he got stressed and busy, but they finally fixed the problem.
A few days after Legend's interview, Teigen cleared up on Twitter that it wasn't a "typical breakup" and said "no" because her husband was on tour and complaining; her voice was hurt.
Twitter users applauded the former Sports Illustrated model in the comments section for quickly coming to her husband's defense after a misunderstanding. Many noted Teigen's actions as an act of true love.
John Legend's divorce from Chrissy was made up on Twitter
Several Twitter users speculated that Legend and Teigen divorced after Teigen was involved in a bullying scandal. In 2021, model Courtney Stodden accused Teigen of tormenting her with hurtful messages on Twitter for years.
Teigen, known for tweeting funny or disturbing thoughts, apologized to Stodden in a lengthy online statement. However, some users were upset with Teigen. Others asked when Legend would separate from his wife.
A user wrote that Caption was getting divorced Teigen because he lost a lot of endorsements. "I can't believe Chrissy Teigen and John Legend are getting a divorce," another commented.
Meanwhile, a critic I ask whether Legend would divorce Teigen after her lukewarm apology to Stodden. Other He suggested that the singer should be eliminated from "La Voz".
an user mocked Legend for not divorcing Teigen. In response to a barrage of criticism, one user wrote that other commenters were trying to "intimidate" Legend. Meanwhile, Teigen poked fun at the situation.
A netizen urged Pop Sugar not to post the couple's photo on Instagram in 2020 as they were divorcing. The reality star commented that they would "definitely break up" once they were able to leave the house.
Despite Teigen's humorous response to the rumors, she and her husband will not divorce because she refuses to see another woman with their child.
John Legend and Chrissy Teigen's relationship is an example of a strong marriage
Legend and Teigen's marriage appears to be one for the books. The couple have an extraordinary love story. They first met while filming Legend's "Stereo" music video in 2006. Teigen revealed that they had an intimate moment when they met.
Even though they stayed connected for the next year, Legend still walked in various public events with other women. Teigen said that she took the time to get to know him and that marriage was never an end goal for her.
But the couple finally tied the knot in 2013 in a beautiful wedding ceremony on Lake Como, Italy. Later, the legend would rave about his marriage, saying that he and his wife deeply respect and admire each other.
He also commented on Teigen's sense of humor, noting how it adds fun to their relationship. Legend has it that enjoying each other's company is the foundation of their marriage.
John Legend and Chrissy Teigen are expecting a baby
Teigen and her handsome husband celebrate their 10th wedding anniversary this year. The fact that they are expecting another child is a testament to their unbreakable bond.
Teigen announced her latest pregnancy on Instagram, revealing her growing belly. Her pregnancy has been the result of IVF procedures. She wrote in the caption:
"[T]he last few years have been a turmoil of emotions, to say the least, but joy has filled our home and our hearts again. A billion shots later (most recently to the leg, as you can see!) we've got another one on the way."
Their baby on the way is a lovely addition to their two children, Luna Simone Stephens and Miles Theodore Stephens. Teigen's pregnancy comes after the couple suffered a miscarriage two years ago.
Chrissy Teigen admitted that she had fears about her current pregnancy. She said she doubts she'll ever walk out of a date feeling more excited than nervous. But she also remarked that everything up to that point had been "perfect and beautiful."